Others
Half of enzymes used in industries like textile and leather, cosmetics and fine chemical, are obtained by genetically modified organism employing genetic and protein engineering. Dezyme software is an efficient solution for industrial processes without or in completion of experimental high-throughput screening and directed evolution. It offers substantial cost and environmental savings for:
Computational predictions of stabilizing and thermo-stabilizing mutations
In silico investigations of solubility mutations
Rational enzyme design
Case Studies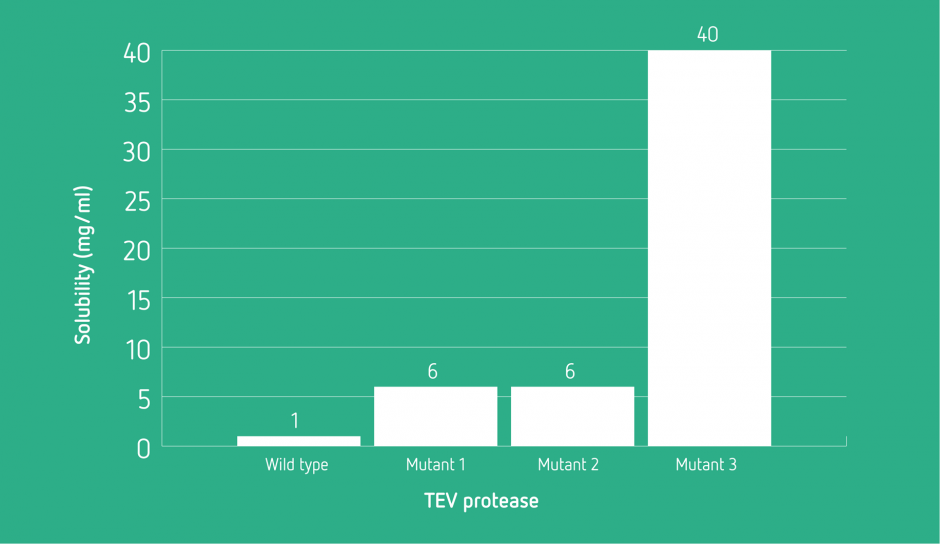 Solubility improvement
The objective was to increase the thermodynamic stability and the solubility of TEV protease, a protein that is frequently used to remove affinity tags from purified proteins.
All the single-site mutations were introduced in silico in the protein and their stability change was evaluated. We selected surface mutations that stabilize the protease, assuming that they stabilize both the enzyme and the interactions with the solvent, and thus increase the solubility. We identified two mutations that present a solubility of about 6 mg/mL, whereas that of the wild-type protein is 1 mg/ml. The double mutant presents a solubility of more than 40 mg/ml.
Based on these good results; we are now promoting the development of a dedicated predictor of solubility changes upon mutations.
Cabrita LD, Gilis D, Robertson AL, Dehouck Y, Rooman M, Bottomley SP. Enhancing the stability and solubility of TEV protease using in silico design. Protein Science (2007)